* according to Time Asia (unfortunately the original article is no longer online, but I'll take Wikipedia's word on this)
The day started with some beautiful weather, so we chose to start our hike from the beach near the village of Shek O. Seriously now, despite the clouds, it was quite warm, with temperatures up to 20 degrees. We didn't take a dip though. There were warnings that shark nets would be removed for maintenance during the off-season. Never saw a shark in the wild and I plan to keep it this way.
Even almost deserted, Shek O was charming. Apparently in the summer it's pretty crowded. So I guess we chose a good time to visit it.
From there we walked a couple of kilometers north, to Big Wave Beach. The water here was full of surfers. I guess sharks aren't such a big threat. We started climbing a ridge, with the bay panorama behind us.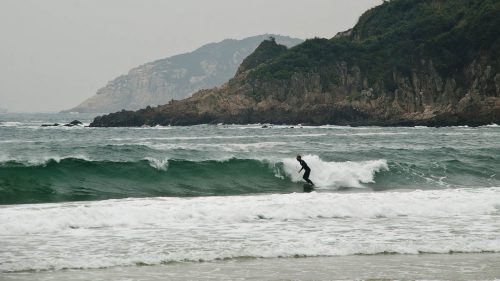 The first few kilometers were on flat trails. Admired how people here manage ground erosion and flash floods. Each slope is carefully maintained, with extensive drainage systems and a web of narrow little trails (off limits for tourists) to provide access.
Finally got to the Dragon Back section. A steep climb took us up to the mountain ridge. We had views all around us, as far as the eye could see (which was a few kilometers due to the low clouds). This was indeed an awesome trail.
Finished the day with a stroll on the Stanley Village water front. This was the first settlement on HK island. It used to be an important British administrative center in the 19th century. Even today many foreigners still live here (judging by the faces we saw and the languages we heard).