12pm. 20-something September. Leaving Death Valley. Sandstorm. Pretty harmless.

2pm. Sunny, but with clouds in the distance, over the mountains. Heading for Yosemite (via Tioga Pass), so we were hoping we won't have bad weather later.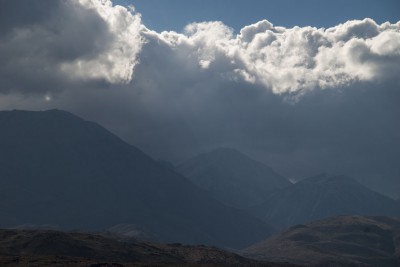 4pm. Started to rain. Damn. Mentally preparing for a cold night camping in Yosemite. Probably no hike the second day.
6pm. Tioga Pass. Road signaled as open. We were going up. The rain was going harder. Noticed some pebbles going down the side of the mountain. "Hmm, doesn't look safe". Then 2 freaking boulders (about half a meter wide) started sliding down towards us. I braked and the first one passed in front of the car. I accelerated and moved out the way of the second one, just in time. Hands shaking from the adrenalin.
We were at around 3000m, approaching the highest point of Tioga Pass, when the car stopped. Because of the snow. There was a fresh 5cm layer of it on the road. I felt I could push the car a little more and get to the other side. Suddenly, the blizzard reminded me I was in shorts and sneakers. Turned the car around and went back down the mountain. Snow removal trucks were already making their way up, clearing the road from snow and boulders, rescuing stuck cars. Tioga Pass was signaled as closed.

1am. Arrived in San Francisco, via Lake Tahoe. Drove 600 miles that day.