Last fall, I ran a half marathon (that's me below, at the finish line). I barely trained – 2 runs of 5 and 11 km, in the week before. 4 days after the event, I still had issues walking and sitting down. I thought I won't be able to do, in the near future, a full marathon. I didn't even know if I wanted to.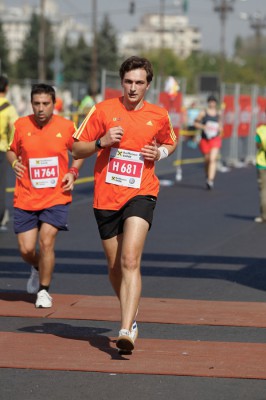 Then I signed up for the San Francisco Marathon. The full one – no half measures. I even ~actually~ trained. Not hardcore training, but 1-2 runs per week, between 5 and 20 km. I pushed it up to 30 km last weekend and survived. Yup, ready for the marathon!
The start for my wave was at 6:32 am. Each wave started at a different time and grouped people with similar finish estimates. My wave was the last one – for people who expected to finish after 5 hours (the limit being 6). We started just after sunrise  – the sky was clear and the weather was awesome.
The first few miles were along the Embarcadero. We then approached Golden Gate Bridge. We were in luck – the bridge was not in fog, sun was shining. Running over the bridge felt awesome. I don't have photos (I don't run with my DSLR), but you can find some in The SF Gate.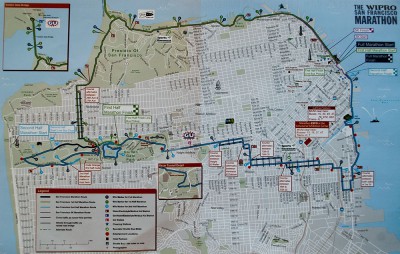 We continued through Presidio, followed by Golden Gate Park. As we entered the fog and the runners were thinning up along the route, the weather became chilly and the mood gloomy. Thankfully, the organizers had set up entertainment points each couple of miles. Rock bands, oldies bands, weird bands, techno DJs – they were great. The spectators were awesome as well. Random cheers and signs that I saw along the way:
– "Go, complete stranger, you're doing great!"
– "Free photos with you and the Golden Gate Bridge (if you have a camera)" (eh, I don't)
– "Jesus loves you"
We headed on through Mission (sun again!), then around AT&T Park, and finally reached the finish. I made it in under 5 hours – 4h52′ – 3813th out of 5763. Also beat my half marathon record by about 14 minutes. Not that bad.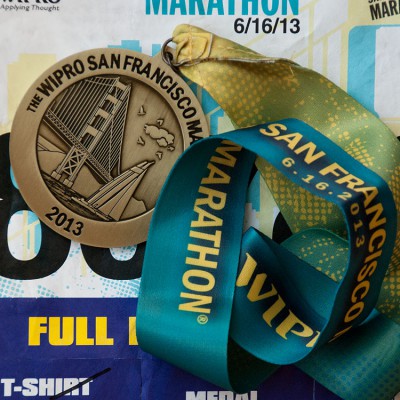 After the marathon, I ate some of the snacks they gave us and I went to a nearby supermarket to buy more. I need to recover 4000 kcal. Back in my room, I saw myself in the mirror – my face was covered in a thick layer of salt crystals. Or should I say electrolyte crystals, as salt sounds lame (and cheap) for sports nutrition companies.
So what's next? Well, I'm not into road running. I think trail running (especially in alpine areas) is a lot more awesome. I see this marathon as a step closer towards being able to finish a mountain marathon. And when I say this, I'm thinking of The Piatra Craiului Marathon. Let's see how this summer evolves!