I was always curios to see Silviu Balan run. I'd see him at the beginning of trail running races, then he would sprint ahead with the other top runners and I'd see him again at the awards ceremonies. Eager to learn from him, I joined one of his trail running camps.
Arrived in Bunloc Friday evening. After a little socializing, went on to stretching and then to a run up Bunloc Hill. Along the run, Silviu explained the technique in running uphill and downhill. We then got to practice it and get his feedback.
After supper, Silviu talked about the theory behind different aspects regarding trail running, such as nutrition, equipment or training.
Saturday – the big day. We went on a long run up and around Piatra Mare.
We arrived at Cabana Piatra Mare, where the group split in two. Some wanted to rest, climb to the peak (nearby) and head back down. The rest, myself included, went on a steep descent to the base of the mountain, followed by a climb back up.
At first, climbing was pretty slow – there were lots of raspberries alongside the trails and we couldn't help ourselves. But as it started raining we upped the pace towards Piatra Mare Peak. We got to the top, cuddled together like penguins until we all regrouped, took the mandatory photos and ran down to the cabin for some hot tea. Continued downhill towards Bunloc and got back to the guesthouse after 9 hours on the trails.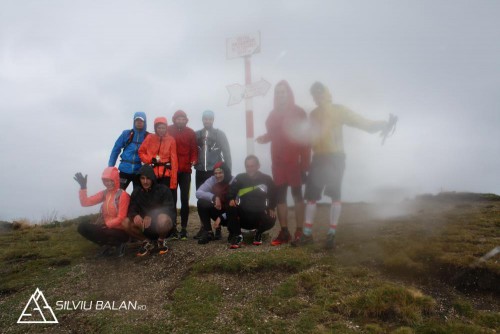 Sunday. I don't know how many of us would have wanted to go on another run. Most of our shoes were still wet. Yet Silviu took us again up Bunloc Hill. On top of that, he prepared a little trail running contest. With 3 loops of only 500m each and an average grade of 20%, it was short and intense! I somehow managed to find some more resources and secure a spot on the podium – third place out of seven!
Overall, Silviu's trail running camp was a very good experience. I now have a better grasp of the knowledge I need to grow and improve my running.