Aug 19
It's barely 4 pm and I've decided to set up camp. Earliest ever. I had a choice between this, setting up camp a few hundred meters higher up (colder and probably no stream nearby) or continuing to the other side of the mountain (but it would have been late and cold by the time I got there).
So I just sat in the sun for a while – like a lizard. Then I ate. Then I started meditation, reaching internal mindfulness and chi balance. I'm kidding, I watched a movie.
This morning, after having breakfast at the hostel, I returned to the segment 7 trailhead and started the longest climb yet (from 2800 to 3800 m), over the Ten Mile Range. From the hot tub last evening, these mountains looked big. Up close, .. even bigger.
The sky was overcast. Which meant it was really cold. Something like 5 degrees. Gaining elevation sure didn't help temperature wise. At least the effort kept me warm. Most of the climb was steep and technical – push-bike for me. Went through a recently burned down area. I actually read about the fire here on one of the blogs I used for planning.
I was expecting the descent to be as bad, but actually it was quite rideable. And I got some great views of the mountains and ski resorts in this part of Colorado.
Stopped for a veggie burger in Copper Mountain, at the beginning of segment 8. There was a festival of sorts there, with a band of 5 singing for an audience of 5 (you can't count me as audience, I wasn't voluntarily listening to them).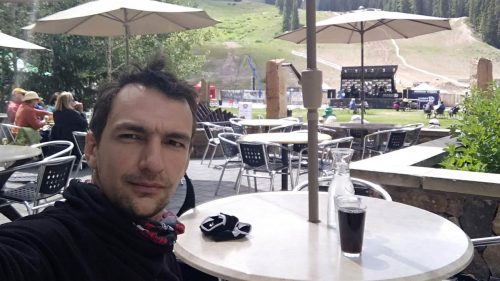 Stopped midway on the climb to Searle Pass. Nice meadow, nearby stream – it will do.