We wanted a nice relaxing weekend visiting some beautiful areas, so we planned a couple of bike routes around the town of Fagaras. Since the trails were pretty light, I chose my CX bike with semi-slick tires. For Andreea we rented a bike from Brasov Trail Adventures.
Day 1
Started the day next to the citadel (didn't have time to visit it, we'll keep it on the todo list). From there we biked to the Sona Hills. Some people wonder who/what made these huge knolls and write about their mysterious history. Most people don't care.
Continued with some easy offroad sections through meadows. It was the beginning of July and everything was lush green.
Stopped in the village of Felmer for hydration. From there we chose tarmac roads. I remember there are plenty of offroad options for those who want more (check the heatmap on bikemap.net).
Spent the night at Casa Moga. The owners have renovated their old house, decorated it with traditional style furniture and threw around some kittens. They also had fresh "socata". Enjoyed our short stay there.
Day 2
Started by visiting the main attraction in the village of Sinca Veche: the cave monastery. It can get pretty crowded (especially if you go on a Sunday morning). Otherwise, it's an interesting place to visit. Just step into the cave and have your soul illuminated by the holy light. Or something.
We left the cave and headed for Sinca Noua. We didn't plan on taking DN73A, aiming instead for an old road, perhaps a remnant of the old railway between Brasov and Fagaras. Unfortunately, the tall grass, stinging nettles and hoards of mosquitoes got the best of us, so we turned back after less than 100 meters.
We would have wanted to see the nearby virgin forest (the guys from Casa Moga told us about it). Unfortunately, we were yet again out of time. Something else to add to our todo list. We can experience it online in the meantime.
Sinca Noua has quite a handful of attractions. Started with the wooden church. Insider tip: there's a handle just above the door. You can use it to ring the bells.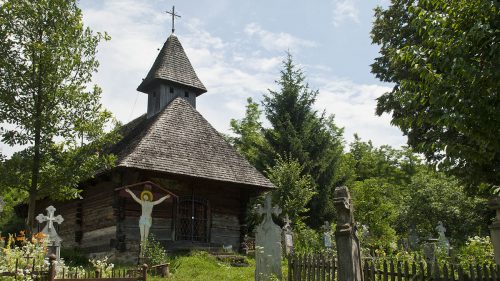 There are also two viaducts hidden near the village. They were part of the old railway, built in 1907-1908 and abandoned 30 years later due to technical issues. They might seem hard to find. Just use my track, it will take you there.