Thassos is one of the most easy to get to destinations in Greece if you're coming by car from Romania. And by easy I mean it's just a short 10 hour drive from Bucharest – and that if you're lucky with the queue at the two border crossings. You'll also be taking a ferry, but there's one every 30 minutes or so.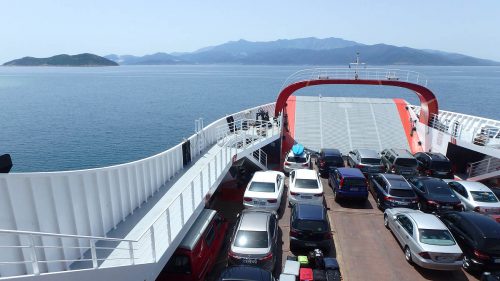 So why come here? I guess most people come for the beaches (I'm not one of them, so you may consider me an outside observer). The shoreline is rocky and steep at moments, but you'll also see tens of beaches here and there. You first have the standard sandy beaches. Everybody knows them, nothing more I can add.
You also have rockier beaches. Not as good for splashing around, but you can go snorkeling and see marine life. Watch out for sea urchins though!
Third – and my favorite – marble beaches. Close to the city of Thassos, but after a few km on a dusty gravel road, you'll get to Saliara, a small beach completely covered in small marble pebbles. But if you're after FB/Instagram likes, then go a couple hundred meters further to Porto Vathy, where you can lounge on a sunbed, enjoy a cold drink and use their wifi to post those stupid "At the office"-captioned photos.
And finally, you have places that aren't even beaches. I'm talking about Giola here. It's the most inaccessible from those I've seen – driving on a dirt road, then hiking down a cliff underneath the grueling sun. It's also not appropriate for those that can't swim. But the view is spectacular and it's a great place for cliff jumping.
There's a paved road that circles the island and provides easy access to most beaches. There's also a couple mountain towns that you can visit, such as Panagia and Mikros Prinos. You'll easily find restaurants and there's nothing better than lounging in the shade after you've enjoyed your fresh seafood meal.
But seriously now.. You know me and you know I love biking. Couldn't have stayed a few days in Thassos without having a go on their trails. Rented a bike from Velo Bike Rentals. The owner Yannis can even deliver the bike to your place, if you're not staying in Potos. I got a pretty good bike, complete with SPD pedals and a mount for my Garmin.
I started at 6 am. It got pretty hot later on, but for a big part of the ride I could enjoy the shade of the pine forests. From the top of Mount Ipsario (1203 meters) I got a great view of the whole of Thassos. Got back by 12 pm, after over 60 km and 2000 meters climbed. The track is mostly on unpaved roads in good condition.
Also tried a shorter route, perfect for an early ride just before breakfast:
Thassos used to host a MTB event each April. Unfortunately, the island suffered from a series of fires in September of last year. Large forest areas were lost. As a result, the organizers (same ones that rented me the bike) decided to cancel the event for this year at least. The trail running and road biking events will continue as usual.