Day 7 – September 24
Left Chame at 7:30, on a pretty cloudy weather. Got only a few glimpses of snowy peaks. Had egg noodle soup in Bhratang (2850 m), to provide us energy for the climb to Dhukur Pokhari (3250 m).
The landscape opened up in front of us, as we escaped the narrow cloudy canyon and arrived in a wide sunny valley. It felt like taking a breath of fresh air after a long period indoor. The view reminded me of last year's hikes in the Sierra Nevada Mountains, with those pine forests and their strong scent. For the first time we got a (very brief) glimpse of the Annapurnas.
Arrived in Lower Pisang (3250 m), then crossed the river and stopped for the night in Upper Pisang (3320 m). If the sky will be clear tomorrow morning, we would see the sunrise over the Annapurnas.
Day 8 – September 25
But nooo! We couldn't have a nice clear morning. It's 8 am now. Woke up at a quarter to 6, hoping to view the sunrise over the Annapurnas. Instead, we got foggy weather and some rain. Did see just the teeniest glimpses of mountain tops between the clouds and we even thought the sky will clear up. But then the rain came back. The 4 hour trek to Manang will have to wait.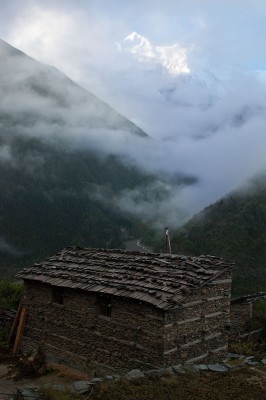 It's 9 pm now. Sitting in the dining room of the Mountain Lake Hotel in Manang (3540 m). Left Upper Pisang at around 10 am, after the rain finally stopped. Bought some ozonated water from Lower Pisang, then headed for Humde (3330 m).
Humde looked like a ghost town. Weird for a place that has an airport. Had lunch (negotiated for a free noodle soup), then left for Bhraga (3450 m). Snowy peaks started appearing through the clouds and we could easily see a glacier.
In Bhraga, we stopped to check out a gompa (monastery). This 500 year old gompa was open for tourists. But closed. Luckily the guidebook we used told us what to do: ask people nearby for the guy with the key. And, sure enough, 5 minutes later, the guy with the key unlocked the gompa for us. I must admit I know close to nothing about Buddhism, so all I saw inside was a creepy poorly lit place packed full with hundreds of ugly dusty statuettes.
Finally (time passes slowly when you're gasping for air) arrived in Manang. Most important settlement in the area and district headquarters. This is a very interesting place, a mix of Nepali life and Western backpacking subculture (vaguely reminds me of Koh Phi Phi). Lodges here are a little bigger – they are even listed as hotels. But still… the shower is an addition on the outside of the main building. The rooms have a cave-like feeling. And inside the building there are no water faucets or power outlets. You can wash at the faucet outside. Power outlets are available in the dining room.
Again, we got the room for free – as long as we eat there. And we had our first meat-based meal in a week: yak burger and yak steak, about $8 each.
After these last few days, I discovered I've developed a blister. About time – walked about 100 km. Also have a slight sunburn. Need to be more careful with sun exposure, especially at these altitudes.