Stayed in Alishan less than 24 hours. Still it seems we pretty much got to see everything (according to the leaflet we got at the visitor office).
We got to Alishan by taking a mini bus from Sun Moon Lake. We went on a mountain road, winding up to over 2600 meters. Steep slopes barely allowing switchbacks. The 30 kmph speed limit seemed to be making fun of our little bus barely crawling up at one third of it. Stopped for 20 minutes at the highest point, Tataka, where we found the visitor center and a few trail heads. Used all that time to find a nice viewpoint over the mountains. Best I could manage was this photo from the parking lot. From Tataka we descended to the village of Alishan – just 2200 m elevation.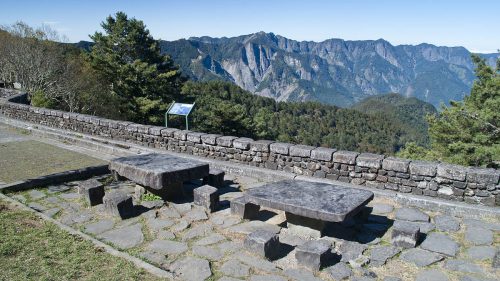 We booked a very nice room with Japanese influences. During winter, it can get pretty cold at night. It was January and I think the lowest temperature we saw was 8 degrees C. Rooms don't have any heating, but they do have electrical blankets. Thanks to them, we survived the night. We had a device in our room whose purpose I wasn't able to figure out. I tried translating its controls with Google and then decided it's best to not touch it: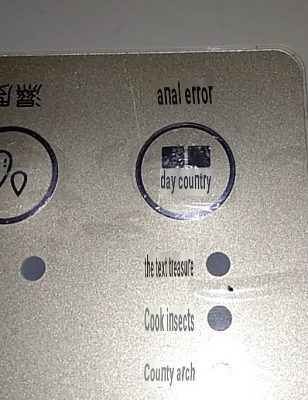 The main attraction in Alishan are the forest trains. The lines were built by the Japanese in 1912, in order to facilitate logging. The whole area is now a nature reserve and the trains are used to move selfie-making tourists around.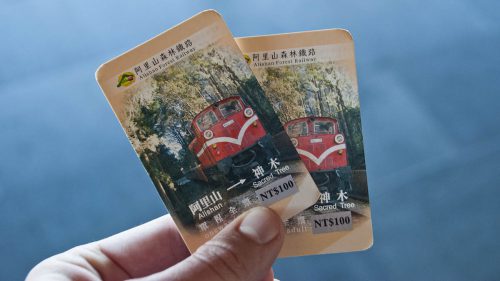 We started with the train to Sacred Tree station. The ride was 7 minutes long for a distance of arguably over one kilometer (so it's safe to say the train was as fast as an average train in Romania).
Walked a couple of short trails showcasing some thousand year old Taiwan red cypress trees. The oldest was 2300 years old. The trails were built on platforms in order to preserve the forest floor.
We also enjoyed another local attraction: the sea of clouds. The best viewpoint was near the Sacred Tree station – some specially built platforms about 400 meters away. Another good spot was the top floor of the main Alishan train station. Here we caught the sunset.
A side note on tea. I really like how in Taiwan you can buy brewed tea in every store. Literally everywhere, even more common than Coca Cola. Just mid trip I noticed the tea is heavy in caffeine and decided to cut back on it a little.
Something else this little village prides itself with is the sunrise. They even claim to have the best sunrise view in the country. So we woke up before 5 am and took the 5:50 train to Zhushan. Can't miss it, pretty much every tourist will be on it (there were actually 2 consecutive trains in order to manage the crowd).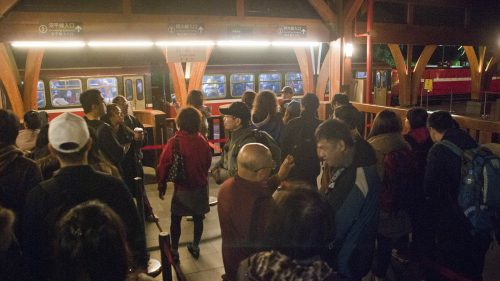 The trip lasted about 15 minutes. Got off and walked another few hundred meters up to the Xiaoliyuanshan Observation Deck, at over 2400 m elevation. Blue hour, misty valley, rows of mountains in the distance. Quite the view.
A general "Oh!" from a chorus of Chinese tourists marked the actual sunrise. By itself, nothing special. The crowd took their photos and returned to the train platform.
We descended on foot and went on a side trail. Following a deserted railway, we got to the oldest tree in the park, 2700 years old.
A side note on 7-11 – the ubiquitous convenience store in Taiwan. Besides the standard things you'd expect to find there, they also serve cooked food. Something similar to street food. You take an empty bowl and fill it up with whatever you want from a variety of products such as pig blood pudding (comes in slices), pig blood cake (sticky rice soaked in blood, cut in slices) and other pork based products, tofu, eggs boiled in tea, vegetables. For more info on what can be bought or done in a 7-11 check out this article.