No, those are not three random nouns. It's actually Taiwan's largest lake and a popular tourist destination. Sun Moon Lake – how can you not love such names? It's how I'd expect Google to translate the Chinese name of some type of noodle soup.
I was back in Taiwan after my first visit over 5 years ago. Remembered one of the reasons I like this country. Being well developed, but with not so many tourists as other countries in the region, you are more like a guest than a source of income. While the language barrier will be more obvious, locals will go out of their way to make you feel welcomed.
From Taichung airport, we took the direct bus to SML. It takes about 2 hours and costs 7 EUR. If this bus' schedule is not OK for you, you can take 2 buses, changing at the HSR (High Speed Rail) station.
We checked into our hotel and got a huge room. Coming from Hong Kong, we were shocked. The bathroom alone was comparable to our HK room.
For our full day in Sun Moon Lake, we planned to ride around it on bicycles. The route is 30 km long and it has a few small climbs. It's half on the road that's circling the lake and half on bike paths. I wouldn't recommend taking a road bike on those paths, as they are not built for speed. Trekking bikes are perfect, mountain bikes are overkill. There are a few steep sections where you have to dismount, with the paths featuring stairs so you can easily walk beside your bike.
There were several bike rental shops near our hotel. After a a little negotiating, we got two decent bikes for about 15 EUR. It was a little weird for me though, since the largest bike I found was size M.
Attractions
There's a cable car that takes tourists up to an aboriginal village. No time or interest to go there. The price was 9 EUR for the cable car round trip or 23 EUR for cable car+village.
There are several temples around the lake. Nothing memorable.
Climbed to a high point, where a former president built a pagoda in memory of his mother.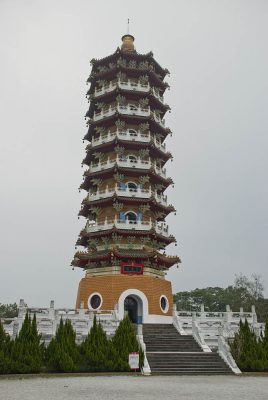 The bike paths are a welcome retreat from the sun and traffic. Some sections are surrounded by lush vegetation or have great views of the lake.
There are a few villages along the route where you can stop and grab some food. Taiwanese people aren't very proficient in English, but that is usually not a problem. You will have to become pretty good at Charades. Just think for a minute how would you mime rice.