Preparing for some future challenges, an important test was running two back-to-back marathons. So I signed up for the top two running events in Romania (which happen to take place in consecutive days):
– Piatra Craiului Marathon (10th edition): 38 km with about 2200 meters climbing, going around and over the namesake mountain
– Bucharest Marathon (8th edition): 42 km on a new and very twisty route in and around the city center
Unfortunately though, after registering for both races, I developed a foot injury (plantar fasciitis). One of my steps in managing that injury was to stop running. So in the 20 days before the races I didn't run at all. Tried to compensate with some biking, but I've noticed that doesn't help when running on flat terrain.
Got to Zarnesti Friday afternoon. Picked up the race kit and was glad to discover we got a fleece from the main sponsor. With a registration fee of 130 ron, this is on the expensive side of mountain marathons, but that fleece instead of yet another t-shirt was totally worth it.
I was hoping to finish in around 7 hours. I made a plan after looking over my track from two years ago:
– get to the first checkpoint (La Table) in 1:45 (same as in 2013)
– get to the top (Saua Joaca) in 3:00 (same as in 2013)
– get down to Plaiul Foii in 4:30 (30 minutes below the 2013 time)
– get to Diana in 6:00 (keeping the 30 minute lead)
– get back to Zarnesti in 7:00 (gaining another 15 minutes on the descent)
Saturday morning. Decided to go in shorts and t-shirt despite the 6 degrees outside at 7 am. After 8 am the sun started heating up nicely and it was looking like a great day for running.
Started the race at somewhere just below my maximum pace. I could feel the two and a half weeks of not running. Got to La Table in 1:45, right as expected. The weather was awesome and I was feeling pretty good (given my injury, my lack of training and wearing a new pair of shoes for the very first time, that is).
Climbed up to Saua Funduri in 3:00. Stayed for a few minutes there, basking in the sun. Then I started the descent. And when I say started, I mean waited in a long queue so we could all get down the tricky sections without hurting each other. I think I waiter around 20 minutes just to get past the first couple hundred meters. There were more people now than in 2013 and this steep section was a bottleneck. I understood there was no way for me to get to Plaiul Foii in 4:30 so I decided to enjoy the rest of the race instead of pushing myself.
After clearing the tricky section I overtook a few people, so I could enjoy the descends at my own pace. If 2 years ago, this part of the race was a torment, now I really enjoyed it. The ups and downs, the rocks, scree, slippery mud, junipers and roots, they are the ingredients of what I consider a great run. But then I got down to the flat section before Plaiul Foii. Couldn't convince myself to run here. Walked to the checkpoint and got there in a few minutes above the five hour mark. Pretty much the same as in 2013 up to this point.
Started the final climb towards Diana. I was feeling pretty good and kept overtaking people. I remember there was a group of volunteers cheering the runners and making a huge racket – you could hear them from hundreds of meters away. Reached the top and sat for a few minutes with the volunteers there.
Started the descent with a steep and slippery section. Pretty cool! Unfortunately, after the checkpoint at Coltul Chiliilor, the grade became a lot milder, slowly descending to the finish line. In 2013 I pushed myself to run this section. Now though, I couldn't. I ran the final 200 meters though – I knew there would be some photographers around there. Finished in 7:41.
After some socializing and some carbs at the pasta party, we returned to Bucharest. Everybody was preparing for a long night's sleep and some well deserved rest on Sunday. Except me.
I'm not a big fan of road marathons. But the main thing I love about Bucharest Marathon is that it closes the traffic on some of the major boulevards here. And we're talking about the most traffic congested city in Europe. How can I say no to that?
In past years, the marathon route was just the half marathon route repeated. That was pretty lame. I was glad to hear that they came up with a new route this year. Here it is: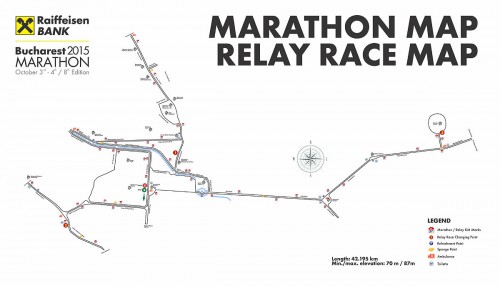 As you can see, it's pretty twisty. There are places that you pass 2 or 3 times and then continue in different directions. Not something you could remember. Yet I must say the organization (at least on this side) was very good, with not even a chance of getting lost. The race kit had yet another t-shirt that I stocked on top of my "yet another t-shirt"s in the closet.
On a good day (without an injury or a marathon finished 16 hours before), I would try to beat the 4 hour mark. Today though, all expectations were off. I just wanted to get it over with.
The first 10k were good. I was going at a steady 10.5 kmph. But then I started feeling the fatigue. I was not recovered after the previous day. I slowed to 10 kmph and I went like that for another hour, but I could feel my body opposing.
There were a lot of spectators on this section, as well as a couple of spots with various performers (the traditional band was a hit). Great atmosphere.
After the half marathon mark, I couldn't keep a continuous run, so I briefly switched to walking. Kept switching back and forth up to around the 28k mark. At that point I couldn't run at all. Continued with a fast walk, around 6.5 kmph. I looked resigned as pretty much everybody overtook me.
Finished in 5h07′. Not that bad, given the circumstances. But my plantar fasciitis was acting up again. After cooling down, I could barely walk. That was my last run on tarmac for 2015. Since then, I only ran on a treadmill or on trails and I ran as much as possible on the forefoot instead of on the heel.