Obviously started the day with another trail run. The area is just too good to pass. After a few kilometers of warmup across town, went up the cliffs above Kanab via the Squaw Trail, then on some singletrack and dirt roads (more like sand roads) called the Connector Trail, down the valley via the Cliffs Trail (very steep, involved a little rock scrambling), then a little bit of John's Canyon Trail before finishing with the K-Hill Trail.
I was lucky to catch the hotel's breakfast both before and after the run – actually I finished my run minutes after they stopped serving, but my wife saved me some food. Continued my post-run recovery with lots of fluids and a short stop by the outdoor swimming pool – chilling in the desert sun.
We didn't leave Kanab before visiting the Little Hollywood Movie Sets Museum. As the name implies, it's a museum with some Hollywood movie sets.. and it's little. Centered on Western movies – because that's the type people shoot in the area. Didn't recognize any of the names, but it was an interesting glimpse into how life looked like a couple of hundred years ago. Even if the museum is free, I don't think it's that interesting to make it worth the time.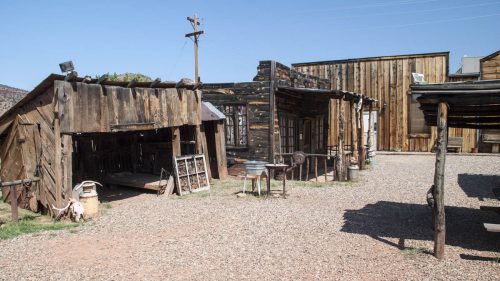 Via yet another scenic road and a couple of hours of driving, we left Utah for Arizona and arrived at the Grand Canyon North Rim. We've visited the South Rim on our previous American Road Trip and loved it, so obviously we wanted more. The park greeted us with a couple herds of bison, followed by some hailstorm. Can't believe we were in the desert mere hours ago.
Set up the tent in what I think is the most beautiful campsite this trip. With the canyon's rim just 30 meters away, with nearby convenience store, laundromat and showers, you can't hope for more.
Spent most of the afternoon at or around the Grand Canyon Lodge, enjoying lunch with a view, staring at the scenery from the various viewpoints or learning about desert wildlife from the park rangers.
Outside the visitor center we went over the weather forecast: a high of 30 degrees C at the North Rim (elev 2500), compared to a high of 44  degrees in the canyon (elev 600). That's quite the difference.