Day 12
Do you know that feeling when you're minding your business around camp and a rude deer is sitting nearby, just staring at you while it's chewing on regurgitated grass? No? Well, I guess it's just me then.
Another day, another scenic road. Now we were back in the state of Colorado, in the high mountains, crossing the San Jose range to get to Telluride. An old mining town, now it's a hub for anything that's got to do with mountains, adventure or outdoors, summer or winter. We definitely need to return here, their via ferrata route looks awesome. It's also one of the few places in the US where you're better off walking than driving. The historical center is small, with very limited parking.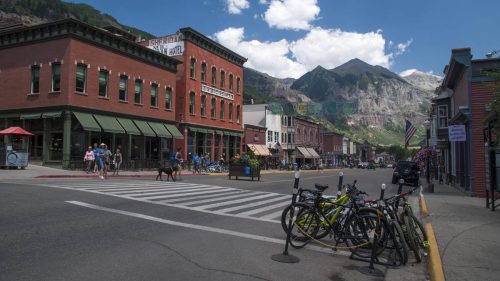 Day 13
Using Strava's heatmap I discovered the route from a local 10k race. Nice little trails, perfect for a run in the not-very-hot-yet morning air.
Our final day of canyons and desert heat for this holiday. Started with the Black Canyon of the Gunnison. It looked steep, narrow and wild. Another place on our "to return to" list, mostly for a hike/scramble down to the valley and back up, maybe even with a night spent there.
Visited Colorado Monument in the afternoon. Yet another canyon / collection of canyons. Nice, but we weren't that impressed. Maybe we got too picky after seeing so many.
But here we had the campsite with the best view so far. We were on top, hundred of meters above the valley floor, and at night we could see the lights from the city of Grand Junction and the surrounding area. On top of that, the temperature was a very pleasant 30 degrees at 10 pm.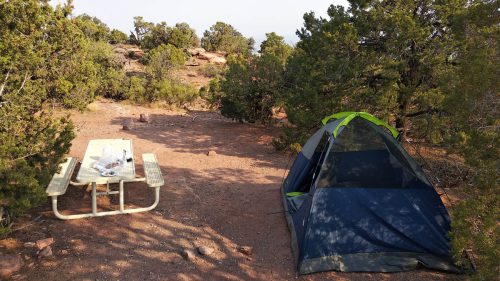 If I were to rank canyons, then the Grand Canyon would be undoubtedly first. It's just so big – mind boggling, ginormous, surreal. Second would be Zion. Here you can get the bottom up perspective. Black Canyon of the Gunnison comes third. Canyonlands, Grand Canyon of the Yellowstone and Colorado Monument get some respectable mentions.
Day 14
Time to say goodbye to the heat and head for the mountains. As we made our way east, the landscape gradually changed. From red to green. From desert expanse to mountain valley. And we soon got to Aspen. I don't know what my expectations were of this resort, but I had a feeling they were not met. I guess I was expecting something smaller, more cosy, with a more dramatic background. Despite having the sprawled out layout specific for American cities, it was pretty car-free and pedestrian + bike friendly.
Ate some Hawaiian food for lunch. Don't know if it was actually Hawaiian, as I have no experience in this cuisine, but they had Hawaiian music and decorations, so it must be authentic.
From Aspen onward we were traveling on yet another scenic road – "Top of the Rockies". And while it's not literally the top, it does wind its way up to Independence Pass, at 12000 feet (almost 3700 meters). On our way, we passed some steep narrow sections, a ghost town from the 1880s and the Continental Divide Trail.
Stopped for dinner in Vail. Didn't know what Vail was before coming there, just that Google Maps said it has restaurants. Was surprised to stumble upon a very nice ski resort, completely car free, with pedestrian streets winding their way around German/Austrian-looking hotels. I discovered how much I miss Western European architecture or streets that are not grid-shaped.