Unfortunately, the Greek trip had to come to an end, but not before I got to wander around the most famous Greek Islands with Hostelbay. So there I was, in the Samos Airport, trying to find my flight on the busy flights panel ("Oh, there it is!"):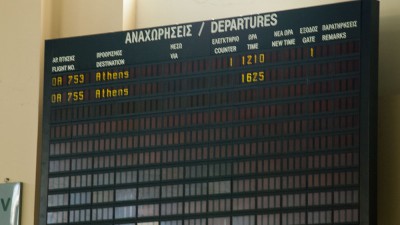 "Thanks" to Kayak and OlympicAir, my original 3h layover in Athens had become an overnight 18h one (apparently, OlympicAir changed their flight schedule a couple of weeks back). Luckily, Camelia and Yiannis came to the rescue. With just an afternoon in Athens, they had the perfect schedule planned out.
First, quick stop at the Acropolis. As I said previously, I'm not into ruins. But from that hill you can get a stunning view over Athens:
Our next stop was 70 km away, at the Corinth Canal (bungee jumping available):
Close to Corinth (or Korinthos in Greek), we found the town of Loutraki. It looked like a popular tourist destination during the summer. At the time, most of the people walking by the seafront looked like locals. We stopped there for dinner. I don't remember the name of the restaurant, but I must say they had some extraordinary fish and sea food there. And I don't even like fish.