Early morning in Stoenesti, AG. Woke up and ate the traditional breakfast our hosts from Cabana din Brazi prepared. Packed all our stuff and biked to the start area.
This day, the race would take us up one of the longest continuous offroad climbs in Romania, from Stoenesti (~600m altitude) to close to Leaota Peak (~2050m). The climb was constant and not that steep. After I found my rhythm, I went on and on and on.
… until I had no more brakes! WTF? How can I NOT have brakes? Looking over the issue, it seems one of the rear brake pad inserts (the little rubber thingy) fell. Must've been something with the little metal pin that holds it in place (possibly my fault in installing it). Even though somebody found the insert, the pin was impossible to find, so I was left with no rear brakes for the day.
We finished the climb and started the very technical trail on the ridge. This was mostly trail running now – not because of my (lack of) brakes, but mostly because of my (lack of) skill. Bonus points for the organizers, with a volunteer helping you avoid an exposed area covered in ice. Some more bonus points for those that climbed the mountain ahead of the race and shoveled snow out of the trail.
Now came the tricky part: descending the mountain without a rear brake. With a combination of running besides my bike and biking very very carefully, I managed to get down the mountain and back to civilization without any issues.
All that was left were a few kilometers through the village of Fundata, on car-friendly roads. Well… that didn't end very well:
Scratched my face, my left elbow, my left leg, my right knee and more than half my fingers. Broke my helmet. Tore a few holes in my shirt and another hole in my sun lotion bottle. But the fall wasn't the truly painful part. Showering my bleeding legs, trying to hold the soap with a hurting hand while trying to wash with the other hurting hand – most painful moment of the year.
And then, back in Bucharest, I discovered I had a broken finger. Just. Great. Surgery. One night in the hospital. 6 weeks with a metal rod in my finger. Which means 6 weeks of not-biking boringness.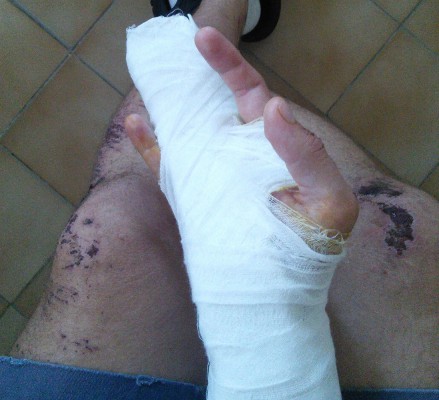 Now, 6 weeks later, I got the rod removed. The finger is stiff, creepy looking, but hopefully I will be able to move it in a week or two. So I can get on a bike again 😀
Photo credits:
Alex Boia
Mihai Benea
Edi Pislaru
Stoica Teodor-Cosmin
Nico Verhelst
Fodor Corina Maria