August 14
This is actually day zero. After finishing our road trip and arriving in Denver, I went to pick up my bike from the guys at the shop. While waiting for the final touches, I had a taste of the weather here: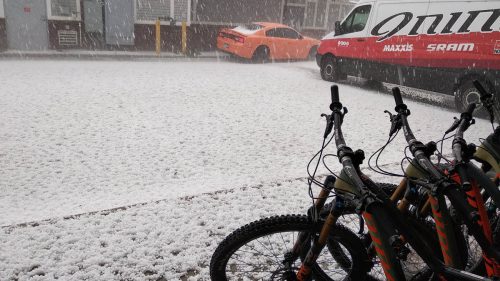 August 15
Finally – D Day. After dropping off wife at the airport and returning the rental car, my two week Colorado Trail adventure started
.. with a prologue. Something like 15 km biking out of Denver, up and down, on wide tarmac roads. But the mountains were getting closer and closer and before noon I got to Waterton Canyon, the NE starting point of the Colorado Trail.
The first 6 miles of segment 1 were on a wide gravel road leading to a dam. Lots of people on this section, as well as some wildlife.
Then the climb started. A small one, just a warmup. But it felt so hard with such a heavy bike setup. Oh, and the heat felt unbearable.
The descent at the end of the segment was very nice. It was my first time on a full suspension bike and it was a very good experience. The wide handlebar and disk brakes sure helped. And having the heavy stuff in the frame bag kept everything nice and balanced.
Segment 2, judging by the profile, is half climb, half flat. But don't judge a segment by its profile. Everything was up and down. Climb 10 meters, descend 5. And it felt like forever. Well, that's mainly because I underestimated its difficulty and took too little water.
But dehydrated or not, I couldn't stop enjoying the ride. On a scale of 1 to 10, this segment was awesome. Flowy trails, as if they were built by bikers (I'm sure some were). Kenosha was inviting me to ease up on the brakes – which I did – moderately – trying to appear as a responsible adult to whoever's reading.
Camped midway segment 3. The trail's book says there's a campsite with water there. Which turned out to be a somewhat flat area next to a stream. I guess that will have to do for tonight. After a an appetizer (sausages), a little washing, setting up the tent, eating the main course (macaroni with beef, chilly and beans) and then washing the teeth (in case my wife is reading – I also flossed), it was finally bedtime.