After a week of cloudy weather, it finally got sunny in Hong Kong. It was our last day there. We left in the morning for Macao. A little bit of history: part of Portugal from the 16th century, Macao was given back to China in 1999. They're under a similar level of autonomy as HK: "one country, two systems" or, as I see it, "You are free to do as you please, unless I have a problem with it".
Geography wise, we have the following areas:
– Macao in the North; originally an island, now a peninsula with only a few hundred meters of border with mainland China; this is where the historical buildings and most of the people are
– the island of Taipa in the middle
– the island of Coloane in the South
– the land between Coloane and Taipa has been reclaimed from the sea and now forms Cotai, where most of the casinos are
Let's return to our story. The ferry ride is 60 km long and takes about one hour. We paid ~17 EUR per one way ticket. We haven't even disembarked that we started getting promotional SMSs. The city is famous for its casinos and they've encroached themselves into pretty much everything. So whoever's been to Las Vegas will at least once during a visit here get a feeling of deja vu.
Macao feels money oriented. They have a constant stream of visitors from HK. So they accept HKDs pretty much everywhere at a rate of 1:1. But their local currency (MOP) is fixed to HKD at a rate of 1.03:1. So each time they get paid in HKD they make 3%. That's what I call smart governing.
While Macao may be famous for its casinos, we were actually interested in its history and sights. The historical area is a UNESCO world heritage site. It has an interesting mix of architecture. Mediterranean next to Chinese. Christian churches next to temples. Streets with a South East Asia feel, but Portuguese names. The center is easy to see on foot. Just start with Senado Square and get a map from the tourist info point. Most spots are open daily and are free to visit.
And here are some more stills with Grand Lisboa, as it's so "in your face", it's hard not to catch it in photos:
Besides the Portuguese architecture, language, street names, features on some of the locals, we also found Portuguese food. For example, this is where all those egg tarts we've been eating in Hong Kong seem to be coming from.
There's a direct ferry from Macau to HK International Airport. On the way we got to admire the Hong Kong -Zhuhai – Macau Bridge, a monumental project linking these two cities. Partly bridge, partly tunnel, built between 2009 and 2017, set to open in 2018, it hits a painful point for somebody coming from a country crippled by a lack of infrastructure. What can I say.. Chinese seas have better highways than Romanian land.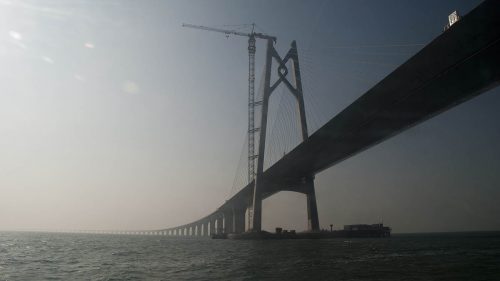 In the airport, the city of Hong Kong paid us for leaving. I don't know why, but we got 120 HKD each (~13 EUR). I remember other countries having a departure tax (pura vida Costa Rica), but getting paid is a first.