Sometimes, from Vathy, on days with clear sky, you can see the peak of Mt Karvounis. And, if you look carefully, you can see three structures: white thingy on the right and two brown thingies on the left. That made me curious: what are they? Let's find out!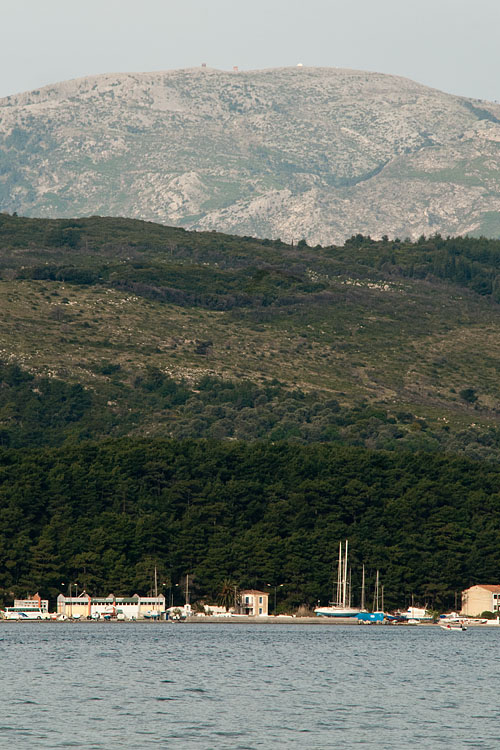 I searched for a bike rental shop in Vathy. I found only one place (open) and they were not renting bikes at the time (outside tourist season), just cars. Damn. Searched online and there I found Giorgos. His shop was in Kokkari (10km away), but he agreed to bring a bike to Vathy. He gave me an Ideal bike (Greek manufacturer) which was more than adequate for my expedition.
I quickly went off the main road and accommodated with the Greek backroads.
After getting used to the bike, it was time for the ascent. The peak of the mountain was at over 1100m altitude, while I was still at 100m. I took the most direct route I found on the GPS and started climbing. This side of the mountain features the village of Vourliotes at about 300-400m altitude, but you can find houses up to about 700-800m and vineyards even around 1000m.
Getting close to the top, the surrounding area starts looking desolated. I reached areas affected by wildfire. I also found a deserted picnic area.
Finally, I reached the top of Mt Karvounis. The GPS showed 1137m altitude. I partly elucidated the mystery of the three structures. I found what looked like a hermit's shack. It was pretty solid, with thick walls and modern door and window. (People say somebody used to live there. Some even think somebody still does. All we know is.. he's called The Stig!) I didn't knock on the door – I was shy.
There were also two metal structures, big and rusty. I don't know what they were used for. Maybe in the '70s, this was the only place with TV reception, so people gathered here to see football matches projected on these screens,.. dunno.
I chose another route for descending and experienced yet another side of the mountain. This time, I was going through a Mediterranean forest engulfed in low clouds.  The road twisted through the forest, with one hairpin turn after the other.
I descended rapidly towards the village of Manolates. I always wanted to bike through a traditional Mediterranean village. Must have something to do with the narrow steep streets, I guess. And I got my 30 seconds of joy. I even biked through a domestic quarrel. The man stepped to the side of the street and let me pass, while continuing his argument with the woman.
Soon after, I finished my expedition on the beaches of Kokkari, next to Giorgos' wind surfing shop.
The GPS track shows a whooping 2300m climb. Unfortunately for me, I'm not yet capable of something like that (or the 90kmph max speed due to weak GPS signal in an area). I probably climbed around 1600-1800m. Yet, that's a new personal record. Hooray!