Hello and welcome to the second half of my moving to Greece article (first half here). I have mixed feelings writing this article now, when we're trying to figure out how to live with the coronavirus and what the new normal is. Hoping we'll be able to find a way to travel as care free as in the before time. It's also weird reminiscing about travel and exploration after one and a half months of isolation, indoor biking, running loops behind the house and occasionally visiting the supermarket (highlight of the week!).
Let's get back to the story. If you're like me, then you must be very curious about the logistical aspects. We found all accommodation via Airbnb. Struggled a little to find something that we liked and that was within our budget (around 600 EUR per month). In the end we settled on spending one month each in two places:
– a 2 bedroom apartment 15 minutes outside the city of Kavala, very close to the sea
– a 2 bedroom house in a small remote village, about 800 meters from the sea, "near" the city of Volos
We were very happy with both our accommodations and with searching via Airbnb. More so considering with 600 EUR you can get a central apartment in Bucharest that is 2-3 HOURS away from the closest beach or mountain. Haven't you wondered why there are so many people in Bucharest? Amiright?
For transportation to and within Greece, especially for a longer period and with a small kid, a car is mandatory. Bucharest to Kavala is around 8 hours, so we did it in 2 days, with a layover in Veliko Tarnovo. Volos to Bucharest is 12 hours, so we drove for 3 days, stopping in Thessaloniki and in a random village in Bulgaria.
Something that I enjoyed in Greece and I can't enjoy in Romania is the infrastructure. Forgot how it felt to drive for hours on highways. Breathe in, breathe out – the smell of civilization. One of the reasons I recommend travelling abroad is that it resets what the normal is and what your expectations should be from your country and government.
Palio Kavala
Spent the first month in an apartment next to the sea, in the holiday village of Palio Kavala. This is the sort of place where Greeks (or even Bulgarians, since the border is close) buy holiday homes. At the end of September, the area looked pretty much deserted. Many restaurants closed. For the last 5 days of so, we didn't even have internet, as the landlord suspended the service during off season.
But we weren't complaining! The weather was sunny and warm, we had the beaches for ourselves and we had plenty of restaurants and supermarkets in the nearby villages and in Kavala.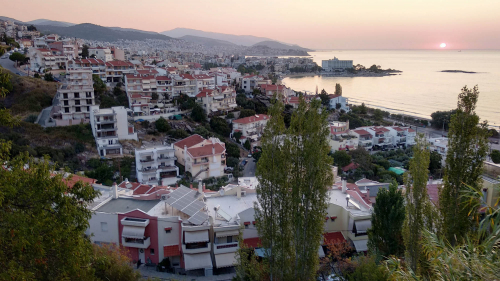 An unexpected find was a system of bike trails, built by locals one hour away, near the city of Xanthi. Had a fun day there and even met the guys responsible for them. Liked the variety of trails and terrain. Climbed 2000 meters, but wasn't able to cover all of them.
Closer to us we had the mountain of Pangaion, with the highest peak just under 2000 meters. Great playground to explore by bike or on foot.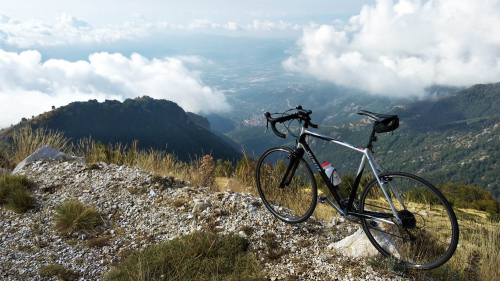 Milina
Milina is a small village in the Pelion Peninsula. The nearest city is Volos, but you'll need an hour for those 40 km of slow winding roads. As you first drive from Volos to Milina, you notice villages are getting smaller and farther apart and you start to feel the remoteness of the area.
We rented a beautiful stone house, around 200 years old, rebuilt to modern standards. The walls were so thick, cell or wifi signal wouldn't pass. We struggled with internet signal in the beginning and ended up buying a wifi repeater to boost coverage. The house was in a valley, surrounded by vegetation, around 800 meters from the village center and the seaside. Unlike Palio, Milina has restaurants operating year long (but the frozen yogurt place had to close mid October..).
Had about a week of rain, but after that it was warm and sunny. Even in the start of November we could still lounge by the sea or go in the water.
We tried to explore as much as possible of the peninsula, with picturesque mountains (the highest being Pelion), small beaches and beautiful villages:
– Agia Kyriaki, at the far end of the peninsula, with great restaurants serving fresh fish and psarosoupa
– Platanias and Mikro, with sandy beaches
– Lafkos, just uphill from Milina
– Argalasti, nearest town, with a decent supermarket
While biking through Milina, I noticed a marked trail. The markings mentioned a website: Friends of the Kalderimi. Browsing it, I learned kalderimi are the old stone trails built centuries ago to connect villages and improve trade between them. Many of them are gone – replaced with paved roads or forgotten and reclaimed by nature. But some were being brought to life by this association. On their website I found maps and descriptions, so for my month there I set out to ride as many as I could. There are two trails from Milina to nearby Lafkos, one starting from behind our house. Both are in good condition and excellent for downhill biking. Other trails are wild and not rideable – but I have no problem carrying my bike on steep terrain through thick thorny bushes while being attacked by mosquitoes – the thrill of exploration keeps me going.
By the end of the month, I ended up mapping (with GPS tracks and some photos) a total of 6 bike-worthy trails in the region and adding them to Trailforks. This should promote the area in the MTB community. Check them out here.
This is just a brief overview of our time there. I'm sure I forgot to mention many useful things. Just let me know if you have any questions. It's an experience that I recommend to anybody and it's actually doable – as long as you can afford the rent and you can work remotely (or get an extended leave of absence). We were actually planning to repeat it this fall as well – we would have gotten away with it too, if it weren't for that meddling virus.