We got to Leon and we knew what we wanted to see: volcanoes!
But first let's check out what the city has to offer. It was finally a city worth seeing, unlike what we've experienced in Costa Rica. Sadly for the Nicaraguans, all the sights were from the colonial period. I had the feeling people now weren't adding anything to the place, they were at most preserving the past.
Visited the Cathedral of Leon. Big, white and shiny. We climbed on top and understood why sunglasses were recommended. On a clear sunny day you couldn't look at this magnificent blob of white without eye protection. Great view of the surrounding area.
Now back to volcanoes! We really wanted to climb on top Masaya Volcano. From the crater you can see the lava lake. Unfortunately, the volcano was temporarily closed because of increased activity. This is how it looked around the time we were in Leon: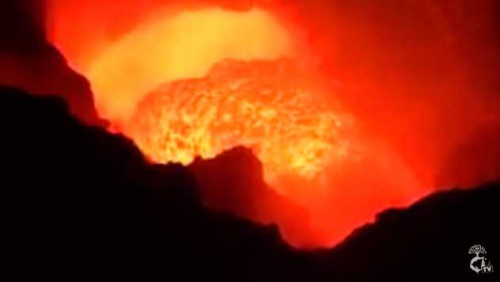 The guy from Quetzal Trekkers, where we were booking the tours, told us Telica Volcano was closed as well. We finally had to settle for Cerro Negro. While technically an active volcano, there's no lava flow of ash cloud. But that's not the attraction here. This is where Eric Barone set the world speed record for biking on gravel, reaching 172 kmph (just before his bike broke in half). We were going to descend the volcano on makeshift sledges. We also had the option of getting an actual snowboard. But… no!
Left Leon at about 8 am. Our guide bought some food from the market, then we set off for the 40 minute ride.
The car dropped us at the base of the volcano. From here we had a steep 40 minute climb to the summit. We were carrying all our rental gear: a sledge, a rudimentary backpack, a coverall, gloves and goggles. I also asked for an old pair of boots since I didn't want to use my trail running shoes as brakes.
The volcano didn't look active, but if you removed the top layer of gravel, the one underneath was hot and you could see vapors rising.
We formed a queue and waited for another group to descend. Then it was our turn. The guide was sitting midway down the slope, signaling us when to start, as we couldn't see all the way down.
Controlling the sledge was pretty easy. Use the feet to brake. Pull the string to raise the nose and gain speed. The first part of the descend was slower. The second part gets a little steeper, speeding things up a little. I don't think I got past 20 something kmph though, not that I wanted to.
After everybody got down, we headed for the park's visitor center. Here we had lunch. By that I mean our guide arranged a bunch of ingredients on a table and showed us how to prepare tacos. Take a tortilla, put some bean paste on it, then some fresh veggies, crushed nachos and salsa, then enjoy. Sounds basic, but given the circumstances we gulped them tacos in no time.
The day ended with a long shower. Even so, I could still find black gravel in my hair several days later.