Day 0 – September 17
Otopeni Airport. Needed half an hour to drop off our checked in luggage. It only consisted of a pair of trekking poles. Being too small, we had to take them to the oversize luggage point (yes, oversize for undersize), where somebody picked them up and personally took them to the aircraft.
4 hour flight to Doha with Qatar Airways. Bought the plane tickets back in February. Got them for only 400 euro per person. Large selection of movies in the in-flight entertainment system. Which doesn't matter a lot if your screen freezes halfway through the flight.
Doha. 9 hour layover. 31 degrees outside, at 10 pm. Newly opened airport, impressive list of facilities. Snoozed for a few hours in a quiet room (although a lot of people don't comprehend the concept of quiet).
Most relaxed security check ever. I was just opening my backpack before the x-ray scan, when the guy there just told me to throw it in. "But I have liquids inside". "It's OK". "And electronics". "It's OK ". Andreea passed the x-ray machine and it beeped. "It's OK".
Day 1 – September 18
4 hour flight to Kathmandu. The skies were too cloudy for us to glimpse the Himalayas. But seeing the Kathmandu Valley was still something special. And then we landed there. Tribhuvan Airport was a stark contrast compared to the one in Doha. Everything looked ancient, rusty and primitive. Entering the arrivals hall, we quickly noticed where the toilets were – by smell. It's like we not only traveled in space, but in time as well. Traveled back in time.
After a painfully slow queue, we got the visas. We picked our (overweight) trekking poles. All the luggage was waiting in a corner – the belts weren't working.
Outside, Ramesh was waiting for us. He picked us up and drove us to the guesthouse we previously booked. Hitting the streets of Kathmandu, we instantly knew the 6 km drive will be a long one. Driving in Nepal follows other rules than what we are used to. First, the streets are a big traffic jam, so you rarely exceed 20 kmph. Priority is given by honking. Policemen act as traffic lights – and there's need for them even outside junctions. Add to this a lot of scooters and tourist tuktuks wheezing their way through the cars, beggars, packed buses and tons of dust and you start getting an idea of roads here.
Glimpsing it from the airplane before landing, Kathmandu looked interesting. That impression didn't last long. From ground level, it looked like a near random collection of equally ugly buildings, arranged as tightly as possible, as in a claustrophobe's nightmare. Dust and the sunset light would ensure exquisite layering in photographs.
Eventually……. we arrived at the guesthouse. The room was … appropriate in preparing us for the more basic accommodations we will have on the trek. Ceiling fan, mosquito nets, dark damp toilet, TV with a plug that doesn't match the socket, Nepali music coming from outside. A dream! Ate, planned, chillaxed, then sleep.
Day 2 – September 19
Today we sorted some stuff before the trek. First, talked to Ramesh to get us bus tickets for the next day. Then went to the bank and exchanged $2000. It's funny because I thought beforehand I wouldn't be able to fit the money in my pocket. And sure enough .. I wasn't. Their largest bill is worth 1000 Nepali rupees – a little over $10.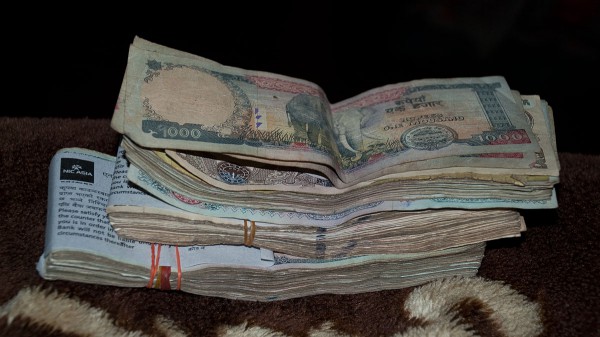 Another unusual thing – they made photocopies of the dollar bills … and had me sign them, along with a copy of my passport. So weird seeing a bunch of people busy around a scanner, carefully photocopying dollars.
Later on I noticed the stacks of Nepali money they gave me were stapled together. That is a curious but effective way of making sure the stacks stay together.
Next up, getting the trekking permits. This task required another dose of Kathmandu's crazy streets.
Read online that getting the permits is a hassle. But we come from Romania. Having to come with 4 photos each, fill 3 forms and wait in 2 queues didn't feel unusual for us.
Had lunch in a little oasis hidden within the nerve wrecking chaos of Kathmandu. Although obviously up-class – fancy mansion, fancy menu, appropriate prices – the waiter's shirt looked like it used to be white a long long time ago. The type of shirt you see in the beginning of a detergent commercial, as canvas for tough stains.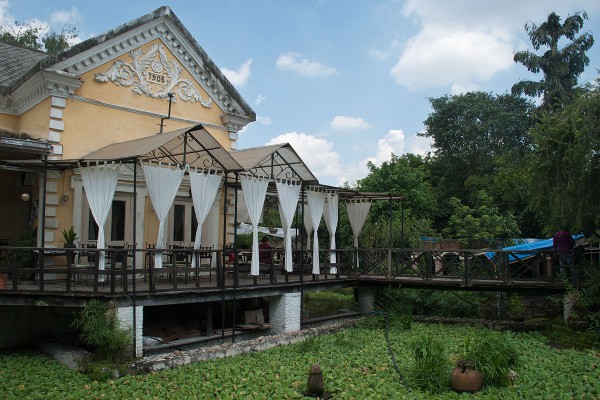 Relaxed afterwards in another hidden gem. This time – a garden separated from the outside by tall walls. Gladly paid $2 each for some peace and quiet… until a kid started screaming and chasing the squirrels.
The afternoon passed fast. Walked around, "enjoyed" the evening traffic and waited out a rain inside another restaurant. Again, it was an up-class one. We were spoiling ourselves before the trek. The restaurant staff promised to bring their guests their countries' flags. And sure enough, they presented us with the flag of Moldavia. Well, close enough.
And when we returned to our room, we had a surprise. That's when we found out about Nepal's strategy in overcoming its electricity deficit. According to a schedule, they periodically cut the power in certain areas. It's called load shedding. So we spent the night under neons powered by an electric generator. That's also the moment when we realized why we have so many lights and switches in the room – half are for the city power and the other for the generator.
Local time here is 2:45 before Romanian time. Seriously. Nepali time is GMT+5:45. I get one hour increments in setting local times. I might even understand half hour increments in special cases, although I think it might be easier without. But having this almost random difference… Still, since Nepalis are pretty cut off from the world, they don't seem to mind the weird time difference at all.