New York definitely lived up to its fame. I found it similar to Hong Kong – crowded metropolis, expensive, skyscrapers making the most out of any available space (just without the mountains and tropical weather). We had only one day there and it was a lot less than this place deserves. Tried to make the most of it.
Only visited Manhattan. Parked the car in the South and started our walk with the 9/11 Memorial, followed by the Charging Bull. This statue was surrounded by a ton of tourists. I get it's a symbol of the NY Stock Exchange, but I think it's just way too popular.
On the Southern tip of Manhattan Island we got to see (from a distance) the Statue of Liberty. We had to skip the cruise – can't do everything in one day.
Climbed onto Brooklyn Bridge. Pretty cool, but also very crowded and pretty narrow, especially when you add some people on bikes. Just North of the bridge is China Town. Had lunch there and really enjoyed it. You can feel the difference between a normal Chinese restaurant and a real Chinese restaurant, both in terms of food and looks. Also found pearl milk tea!
Times Square. Iconic place. Unique atmosphere.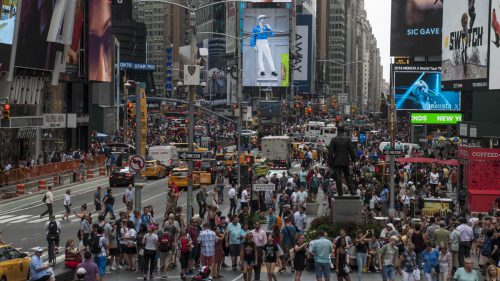 Climbed on top of Rockefeller Center for some views of NY from above.
Drove a lot over the past few days and I'm kinda getting sick of highways. It gets monotonous very fast. Hard to stay focused. Missing Romania's lack of infrastructure – it sure keeps me focused and on the edge. The New York metro area easily has more highways than Romania.