This was Papaya's last ride (with me, at least). We had 6 seasons together (well… during 2017 I only got one weekend in, due to my knee injury+surgery). We rode 3416 km, most of them on some mountains somewhere awesome. We've went through many adventures:
– biking in hot dusty isolated Henry Coe State Park
– night biking in Santa Cruz
– crossing Vrancea's mountains in search of large carnivores
– the week long holiday in the Oriental Carpathians
– biking with Ion Trandafir around Bran
– crossing Valcea's mountains and getting rocked to sleep by pigs
I'll surely miss people staring in disbelief at my bike, saying:
– "How can you descend with such a narrow handlebar?"
– "Dude, check this out, this guy still had v-brakes!"
– "Omg, this XTR shifter looks so primitive!"
– "Why don't you get a proper bike?"
It's only fitting Papaya gets a proper farewell ride. And what better place for it than the mythical mountains of Banat? And every proper adventure starts with a long train ride. 8 hours, to be more specific.
Sunny weather in Caransebes. Put some sunscreen on before starting the 20 km tarmac warmup. One hour later the sunscreen got washed away by a sudden summer storm. Just as fast, the clouds disappeared and we were climbing in the sun again.
We could see we were coming after a period with many rains. The ground was saturated with water. Be it muddy or sandy, it was fighting us on every step. After Papaya carried me over so many miles, karma wanted me to carry her now. Not like I had any choice.
Going was slowed down even more by the plethora of forest fruits just waiting to be eaten. Bitter cherries, raspberries and even some blueberries – I barely touched the food in my pack.
By sunset we got on top of Mount Semenic, to the namesake resort. I don't know if it's just me, but Semenic looks like a ghost town. Decrepit buildings, faded billboards, just a handful of people around.
Went to see the place of one of my award winning photos and was surprised to see those old wind turbines were gone. Managed to find a restaurant and, after having dinner, we camped just outside town, in the same spot as 3 years ago.
The second day started with the descend off Semenic to the south. It was a very slow one, first on a rocky road, slippery from the streams running off it and with stinging nettles and blackberries vines hanging on the sides. Papaya picked up some flowers.
The road then turned to a rocky stream bed which had us fighting for every step.
As we got back to tarmac, Alex said he's troubled by some knee pain and it looks like it's getting worse. Having experience in this field, I said we shouldn't push it and instead go for the easiest exit. That meant 75 km of tarmac to the closest train station. Apparently we went from Cross Country Marathon to Team Time Trial in order to catch the last train of the day.
Not the best farewell ride for Papaya, but she shouldn't complain with the previous week's B4M. And the roads we rode on were pretty cool (as cool as a paved road can be). Lush forests, grasslands and meadows, little villages and just a bit of traffic.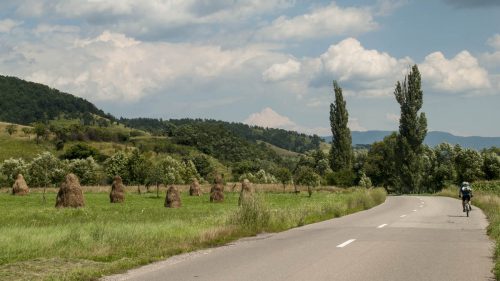 Now back to Bucharest, to get the mud off Papaya (while leaving the awesomeness intact) and see if I can find her a new home.
2 months later and she's gone.. Hopefully to some cool adventures on some mountain trails somewhere..