The bustling and vibrant capital of Taiwan. Ok, I promise I'm done with the cliche words.
Yangmingshan Natural Park. We were actually heading for the National Palace Museum. After getting off the MRT (subway) and waiting for our bus, we noticed a long queue for another bus. We took ours, but meanwhile searched (eh, curiosity) for where that other bus was heading to. We found the destination in our guide, along with a photo of some volcanic landscape and fumes. Screw the museum, let's go there!
Two buses later and.. we were boarding our third bus. This would take us around the park, stopping at various attractions. We didn't know what those attractions were. We had a brief talk with somebody at the tourist office and, pointing to a map, he recommended us to see attractions number 7, 9 and 10. So we boarded this bus repeating to ourselves "7, 9, 10… 7, 9, 10… 7, 9, 10". After boarding, we noticed everything around us was in Chinese. Nothing was numbered. Where and what was that number 7? Tried talking to those around us, but nobody knew enough English to be useful. So we decided to get off when a lot of people would also get off. Which happened at the exact spot pictured in our guide. Success!
We were in what looked like an alpine area. Low visibility due to the fog. Tall shrubs (or short trees, depending on your view of life) all around. Oh yeah, and the sulfurous gases discharged by the nearby volcano.
We didn't have time for a lot of things, with the last bus leaving at 5:30. We briefly enjoyed some hot springs, went on a hike, saw a waterfall and crossed a suspension bridge.
Elephant Mountain Trail. The number 1 attraction in Taipei according to Tripadvisor. I was here on my previous visit, but had to come again. The view is unmissable. This time I didn't have a tripod, but did OK with just the handrail.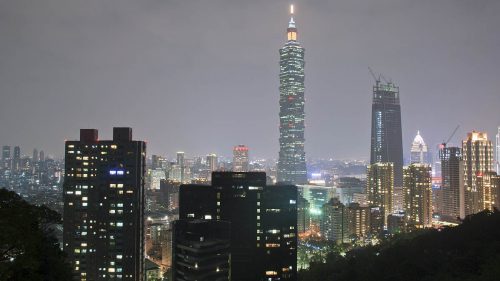 Chiang Kai-shek Memorial Hall. Imposing memorial, next to a theater and a concert hall. Dedicated to a former president, an important and controversial figure in Taiwan's history. We attended the changing of the guards, an interesting, although slow-paced and weird-ish, ceremony.
MRT card. The MRT (subway) network in Taipei is extensive and the recommended mode of transportation. We had the $180 one day MRT+bus card (about 5 EUR), so we pretty much went wherever we wanted.