Probably the longest drive of the trip – 8 hours in total. After 4 hours on highways, we got another two to cross the mountains and another two through Yellowstone, to our campsite.
Let's jump straight to the mountain crossing. The road's name is Beartooth All American Highway. Climbing up to over 3300 meters, it's their version of the Transalpina. Or rather Transalpina is our version of Beartooth. Started from the prairie, passed through the forest level and got to the alpine area, complete with marmots and patches of snow.
The road officially ends in Cooke City, a small mountain town just outside Yellowstone. We briefly stopped there. Wanted to grab dinner, but they were having a blackout and they could only serve sandwiches. There were no restrooms either. Everybody sent us to the visitor center (apparently the only public restroom in town), but the center was closed.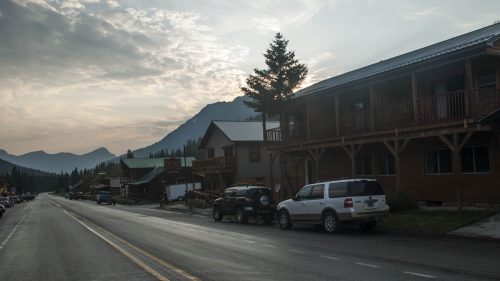 Entered Yellowstone. Coming from the NE, we passed through Lamar Valley. At first we saw one buffalo near the road. Then another one. Then tens of them – everywhere. It felt like the lost world – a place isolated from the outside by mountains all around, where nature went its course undisturbed. We later learned Lamar Valley is the best place in the park for wolf spotting. We had neither the tools (binoculars), patience or knowledge for this. We stuck instead to buffalo and the various types of deer.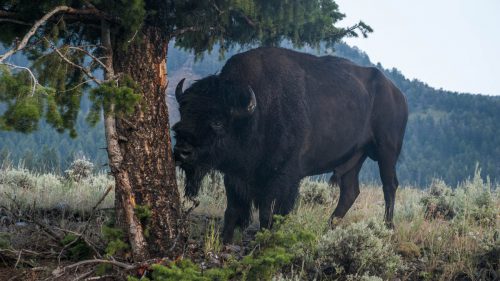 Finally managed to get some food at the Roosevelt Lodge. At first we were told the wait time was about one hour (it was about 8-9 pm), but eventually we only had to wait for about 10 minutes. Looking in retrospect, we should have packed more food instead of relying on the restaurants in the park.
Drove another 1.5 hours through Yellowstone to our campsite. There were just a handful of cars on the road. It was dark. Real darkness, not the one we experience in our day to day life (or is it "night to night"?). And to make things spookier, every once in a while we passed an eerie patch of fog. Seemingly coming out of nowhere. I eventually figured out it was steam coming from Yellowstone's thermal springs. There are thousands of them in the area.
The campground was full – like everything in Yellowstone in the summer. Luckily we've made reservations. Even booking in March for August, we didn't have a lot of options available.
Nighttime temperatures fell to around 4 degrees C. Damn… and this is supposed to be the hottest time of the year..