First morning in Yellowstone. After waiting for the sun to rise and warm us up (like some lizards), we jumped in the car and went exploring.
Went northbound and visited:
Beryl Spring – one of the geothermal features producing the fog I kept seeing the previous night. Our first sight and it was pretty cool. One of the hottest springs in the park, with the water close to boiling point.
Artist's Paintpots – nice half hour walk exploring some more geothermal features
Steamboat Geyser – if I remember correctly, this is one of the strongest geysers in the park; it can shoot water 90 meters high. The problem is it's unpredictable. It can erupt every 4 days to 50 years (who came up with these numbers? I'd rather see a box plot analysis here). There were a few old people sitting on camping chairs, just waiting. Oh.. so that's why they're old..
Norris Geyser Basin – a largish area with many geysers close together and several trails in between. Parking fills up fast in the morning and then everybody else just parks on the main road, adding 10 more minutes to their walk.
Mammoth Springs – a white terraced hill, a la Pamukkale, Turkey. Nice views. Also a village with a couple of restaurants (and huge queues) and some other facilities.
Bears – Yeah, we were lucky enough to see 2 pairs of mom+cub black bears. First it was a pair in the distance, then we saw another pair just next to the road. It created what it known as a bear-jam – everybody stops to take photos, the whole traffic is blocked, just add 30 minutes to your original ETA.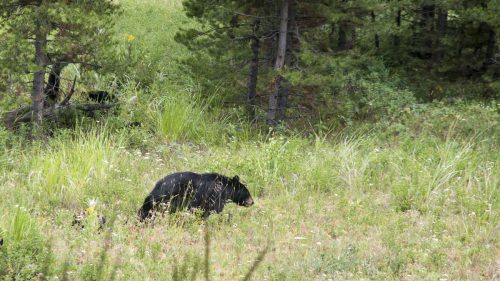 Stopped for the night in Canyon Village Campground. Again – fully occupied, nicely organized, every facility you might think of. Except free wifi. Why would you get free wifi? Nothing in life is free. Welcome to the free world.
In case you're wondering why this place is called Canyon Village, look no further. I'm going to share this long kept secret. Few people know, but Canyon Village is right next to a canyon. And since by now you've figured out Americans prefer descriptive easy to remember names, you won't be surprised to learn this canyon is called the Grand Canyon of the Yellowstone. It's not as grand as the Grand Canyon (the original one), but it is pretty cool and it's also got a waterfall.
Many campgrounds from the States (the popular ones at least) have an evening program with a ranger. Tonight we attended a talk about the bears of Yellowstone. At the end, I think most of the audience was pretty capable at distinguishing between a black bear and a Grizzly, even from a distance.
Tips for visiting Yellowstone:
If you want to move fast, pack food.
Get to popular attractions early – at most 10 am. Things get crowded after 10-11 and parking is more difficult.
Avoid the weekend – don't know how much of an influence this has. We were there Friday-Sunday.
It gets cold at night. Pack cold weather clothes.