Day 5
Our second full day in Yellowstone National Park. Left Canyon Village and went for Lower Geyser Basin. We saw… yes, you guessed it, geysers, hot springs, mudpots, fumaroles. There were so many of them we were getting bored. Skipped the Midway Geyser Basin altogether, especially as we saw the queue of cars waiting for a place to park.
Stopped at Old Faithful. There's an entire village built around this geyser. Despite the huge parking lot, we still struggled a little to find a place. Then we went around searching for food, but the huge lines discouraged us. We settled for a couple sandwiches. We then went to see the geyser.
Old Faithful is quite interesting because its eruptions are predictable. The interval between eruptions is around one and a half hours, but there are a couple edge cases which can affect this. You don't have to know them, of course. At all times there is a ranger looking at the geyser. After every eruptions, based on its features, he calculates the next eruption time, along with confidence intervals.
About 40 minutes or so before the next eruption we went to find a good spot. There was already a crowd and we barely found a front row seat. Waited patiently. Right on time, the geyser started gurgling and spurting water. It reached a height of a few meters and, a couple of minutes later, it stopped. What? we thought. Is that all? The queues, the waiting, all for a little gurgling water? … Well, I guess it's better to come and experience it instead of not coming and wondering about it later.
Around Sunset we drove to Hayden Valley. This is the time when animals are most active and we didn't get disappointing here. Saw a coyote and a ton of bison. A couple males even chased each other on the road, in between the cars.
Spent the night in Grant Village Campground. It's crazy how big these sites are and still they're fully booked months in advance.
Driving around the park we saw many scorched areas, some of them quite recent. We were curious about fires here, so we read more about them. That's how we learned about the 1988 fires, when over a third of the park burned. It was interesting to find out how policies on fire prevention changed after 1988. Before then, fires were considered as negatively affecting the park and were actively suppressed. After that year, people understood suppressing measures led to larger areas of vulnerable forest and then larger fires. So they let nature take its course, leaving fires to burn under controlled conditions.
Day 6
After clearing our campsite we visited the West Thumb Geyser Basin. It was our last stop in Yellowstone. It was interesting seeing all the geothermal features right on the shore of the lake. Despite the area's beauty, we were coming after three nights of camping, so all we wanted was getting back to civilization, some nice food that we didn't have to queue for, internet, a shower and a bed.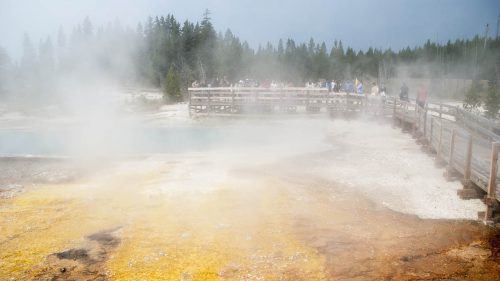 Passed through Grand Teton National Park. Only spent a couple of hours here. This place definitely needs more. A 2 or 3 day backcountry trip is already on our to-do list for our next US visit. The atmosphere was hazy from some fires somewhere, so we had to get in close for a good view of the mountains.
Stopped for lunch at Jackson Lake Lodge. The lobby has a stunning view – one of the best I've seen – with open plains stretching into the distance before the towering mountains. Well, we could barely make out the mountains due to the haze. Nonetheless, sitting at that lodge for a few minutes, we felt like some explorers at the edge of a savanna in an uncharted part of the world.
Spent the night in Idaho. Had lunch at the Ranch Hand Trail Stop, apparently voted best restaurant to have breakfast by American truckers (who comes up with these rankings?). Ate some Idaho finger steaks with some Idaho potatoes – quite an Idahoean dinner.