Day 1
Morning finds me groggy from too little sleep following the midnight flight. Still, I don't have time to relax – I have to run some errands. Get an Uber to the car rental office, get the car, go to the bike shop, try to buy the bike I talked to them about… but it's out of stock… discontinued actually in preparation for launching the 2019 model. Get back to the hotel, call other shops in the area, then accept you're no longer buying the bike you wanted. Move to plan B – actually bike B. Drive back to the bike shop, they have bike B, buy it, then talk about how you want it configured and when you'll be picking it up.
With this taken care of, it's finally time to start the road trip! … with 5 hours of driving. Yay! … over a landscape of nothingness. Double yay! Leaving Colorado for Wyoming. The Google Maps app on my phone seems very shy today. Barely said a word the whole trip. "Next junction in 125 km" is what I can read on the screen, while endless plains keep rolling outside the windows.
After forever we arrived at Elk Mountain Campground, South Dakota. We didn't have a reservation (the rule here is first come, first served) and we were relieved to find an empty space for our tent. Beautiful place to spend the night, at the edge of the prairie. Got a late night visit from a deer.
We bought most of our camping gear (tent, sleeping bags, sleeping mat) from the US, since it's easier than carrying them by plane. Usually that works out just fine, but once in a while we do get surprises. Like the sleeping mat deflating during the night. I kept waking up and inflating it out of reflex, but alas.. I eventually just gave up and slept on the ground (my wife got my one person ultralight mat, so she was fine). Seems I didn't completely tighten a valve. I guess you learn something new every day.
Day 2
After breakfast (oatmeal yumm) and packing our stuff up, we went underground! For our guided tour of Wind Cave. We took the lazy tour – that's the name I gave the tour, since you start from the surface and just keep going down, then at the end you take the elevator back up. Yes, you heard me, there's an elevator in the cave.
This cave is famous for its box work. Those are geological formation that resulted when the <…..>. Sorry, I dosed off out of boredom. Apparently 95% of the world's box work is found here.
Continued with Custer State Park. For us this was a drive thru park. We did two scenic roads:
– Wildlife Loop. We wanted to see some buffalo and we did, we did see some buffalo. Along with some deer and hoards upon hoards of prairie dogs.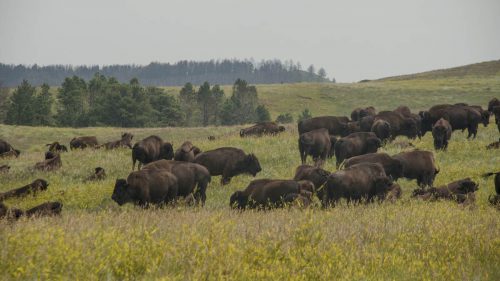 – Needles Highway. Didn't know exactly what to expect from this road. I just read it was cool. And it didn't disappoint. Twisting, winding, narrow, steep road, with some pretty nice views. Loved it. Seems to be a favorite route for bikers – saw a lot of old people on Harleys.
We continued with nearby Mount Rushmore. Look at the image below. Now you really have no reason to visit it. Nothing more to see there. The parking fee is $10. If you give me $5 for this tip, you'll still be $5 richer than if you'd go there.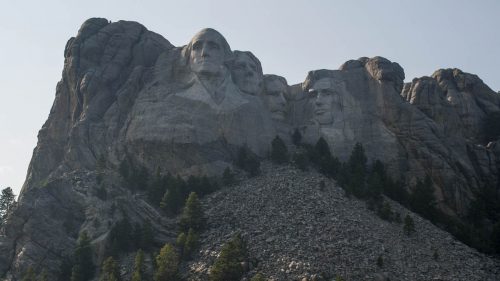 Last attraction of the day (busy day, huh?) was Devil's Tower. Cool looking rock. Also surrounded by a huge prairie dog town. The "do not feed the dogs" signs around are referring to a different type of dogs than those Romanians are (too) familiar with.