Why go there
I can think of a number of reasons, but the ones that worked for me were:
– getting some nice sunny weather in the middle of January
– seeing some pretty awesome landscapes
– getting some mountain biking in (I really missed it, after one year with just 100 kilometers on the trails)
– fresh seafood!
Where to stay
If, like us, you're coming in the winter, then the best place to stay seems to be in the south. We didn't go to the touristy resorts (Playa de las Americas or Los Cristianos). We spent our week in the town of El Medano and it was exactly what we wanted:
– chill and laid back, not swarming with tourists
– very good place for (kite/wind)surfing, although not as good for just sitting on the beach due to the wind
– you've got some options for trail running and mountain biking
– local restaurants, not tourist traps
Moving around
Rent a car! Can't believe it's so cheap. Probably because you're on an island with nowhere to go. Paid 100 EUR/week to rent a car large enough to fit the bike without having to take a wheel off.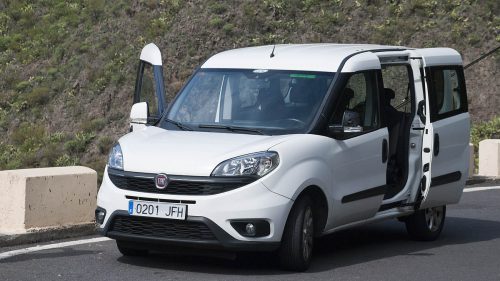 Things we recommend
Teide National Park. Stunning lunar landscape. Teide Peak at 3718 meters elevation. You can drive up to around 2100 meters. Superb roads – especially those entering the park after climbing 2000 meters.
Anaga National Park. The north of the island sees a lot more rain. The mountains here are covered by dense forest. During our hike we were engulfed by clouds. You'll need a permit for hiking within the park – you can get it online for free.
Cueva del Viento. The cave by itself is not that interesting, but having a guide explain all the natural features puts everything into perspective.
Masca. Nice little village perched up the mountain. Used to be isolated up to something like 20 years ago. Now it's connected to the rest of the island by one of the craziest paved roads I've ever seen: steep, narrow, with cliffs on one side and drops on the other. Impossible for any large vehicles and difficult even for normal cars. The hike from the village down to the sea is gorgeous – probably the most popular hike on the island. Most people don't climb back up, taking a boat to Los Gigantes (they also need a cab from Los Gigantes to Masca). But climbing 600 meters of elevation is not that bad and it doesn't require all the logistics.
Being active
YES!
– world class road biking destination. European teams come here for training during the winter.
– great for mountain biking, with a large variety of terrain and trails
– hiking and trail running – from the sea up to 3700 meters elevation
– water sports: surfing and its variations, diving
– I've also seen trails where horses are allowed, so I guess that's another option