6:30 am. A warm Saturday, with expected temperatures of up to 28 degrees. Perfect for some mountain biking. We were already aboard the train that would take us to Sinaia.
All the six racks in the bike compartment were occupied. We still managed to fit our bikes in. It was a weird mix. Our two bikes – low end, battered, with the nowadays rare and unhip V-brakes. The other 6 bikes – high end, scratchless, carbon fiber, full suspension, ginormous braking disks. Their owners didn't feel like bikers. Yes, for the first hour or so they talked only about biking gear, components, what's cool and what's not. But they were in street shoes. One was even in blue jeans and polo shirt. They looked more like guys that wanted to escape their girlfriends, so they bought bikes as an excuse.
The inspector came and checked our tickets. They were surprised. They previously talked with the inspector for a bribe half the price of the ticket. "Why did you buy the ticket? You can just bribe the guy, like us". "But if everybody gives bribes, who will support this train?" I replied. "This train doesn't depend on you". Unfortunately, that's a common attitude in these lands.
Then some serious talk started between the guys. "Life's tougher now, I have to lay low"… "Some of my friends are already in jail. It's serious."… "How am I supposed to live like this? I'll go to the seaside, 500-1000. I'll go to Barcelona, 2000. Money goes fast."
Eventually we arrived in Sinaia and got rid of them. Finally, peace and quiet. We started the climb towards Saua Dichiu. Apparently, that road is closed. … right.
At Saua Dichiu we went off the tarmac and started a descent on a forest road. The snow was melting and water was collecting on the road, leading to some really entertaining mud. As long as you keep your mouth closed. We had to stop every couple of minutes, to wipe our glasses.
We stopped for a snack at Bolboci Lake, enjoying the view towards the peaks of Bucegi. Afterwards, we marched towards Padina, which looked a lot more peaceful than last summer.
From Padina we started the final ascent, towards Saua Strunga. We asked a local for a few directions. He showed the direction and told us the road was good.
Finally, at the top. Behind us, the Bucegi Mountains. Ahead, in the distance, Piatra Craiului. We had to go downhill. Yet, we still had a lot of patches of snow and some tough trails.
We were following a track from Bikemap. When planning the trip, it looked ok (at least the parts that I already knew were good). But, as we were descending, it led us to a steep valley. "Are you f****** serious?" Ciprian asked me. "We are on track" the GPS showed. It was too late to go back up the mountain. So we went down a valley with an inclination of 100%. One of the most extreme things I've done with a bike ever. I'd suggest downloading this track off Strava and then making sure to avoid it!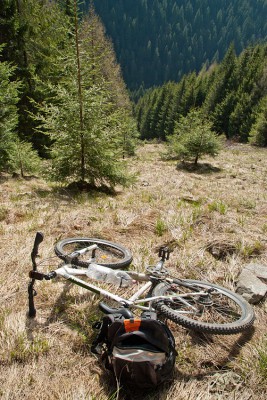 Having survived the valley, we finally reached civilization – the village of Moeciu. We didn't have time to catch the train we planned to, but still we raced to Brasov, to see what transportation options we had for the evening. We entered the train station 25 minutes after the train's departure time. Yet… the train was still there. With a 30 minute delay. We quickly boarded. Who cares we didn't get anything to eat or drink?